Utilising the proven and trusted FG Wilson generator set design, the 8.5 – 290 kVA range provides power that is uncompromising on quality with the introduction of FG Wilson engines and a simplified choice of options. The FG Wilson engines provide reliable power suitable for nonregulated markets or non-mobile applications. Combined with the Marelli alternator, providing coastal insulation protection and a RFI filter as standard, a trusted performance is guaranteed.
Features
Specifications
Suggested Products
FG WILSON ALTERNATOR
Benefitting from a choice of leading alternators, this model incorporates the FG Wilson alternator as standard.
DCP-10 CONTROL PANEL
The FG Wilson DCP range allows you to monitor and control your generator set with ease, providing important diagnostic information whilst ensuring your unit operates within safe parameters. FG Wilson DCP digital control panels, provide simple, intuitive menu navigation and control of your generator set operations. Key information is displayed via the LCD screen and LED's using universally recognised symbols, eliminating the need for complex instructions or language settings.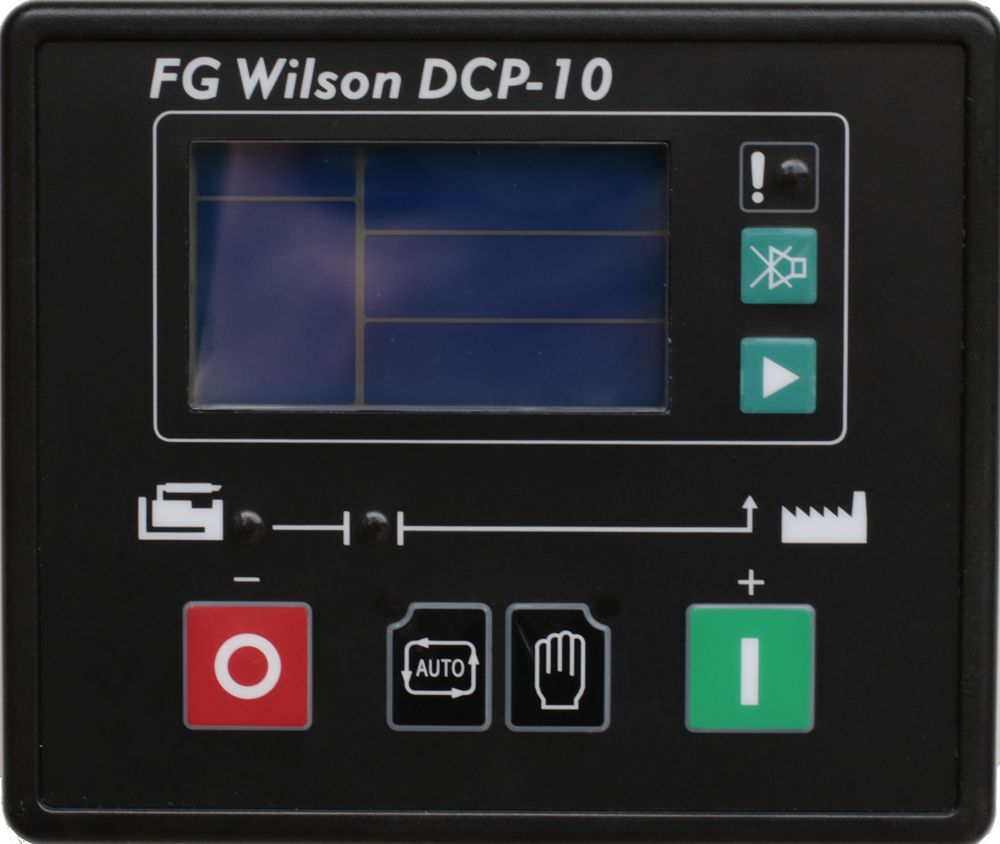 DESIGN CRITERIA
Prime Rating These ratings are applicable for supplying continuous electrical power (at variable load) in lieu of commercially purchased power. There is no limitation to the annual hours of operation and this model can supply 10% overload power for 1 hour in 12 hours. Standby Rating These ratings are applicable for supplying continuous electrical power (at variable load) in the event of a utility power failure. No overload is permitted on these ratings. The alternator on this model is peak continuous rated (as defined in ISO 8528-3). Standard Reference Conditions Note: Standard reference conditions 25°C (77°F) Air Inlet Temp, 100m (328 ft) A.S.L. 30% relative humidity. Fuel consumption data at full load with diesel fuel with specific gravity of 0.85 and conforming to BS2869: 1998, Class A2.
SINGLE-SOURCE SUPPLIER
Fully prototype tested with certified torsional vibration analysis available
WORLD WIDE PRODUCT SUPPORT
FG Wilson manufactures product in the following locations: Northern Ireland • Brazil • China • India • USA With headquarters in Northern Ireland, FG Wilson operates through a Global Dealer Network.
Generator Set Specifications
Generator Set Configurations
Emissions/Fuel Strategy
Fuel Optimised
Engine Specifications
Engine Model
FG Wilson FD6-10.3A2
Displacement
10.3l (630.9 cu. in)
Enclosures
Robust, weatherproof and soundproof enclosures for all generator sizes and all market sectors, including residential applications.
Control Panels
Choose from keystart, automatic, digital or synchronising; all of our control panel systems are safe and easy to use.